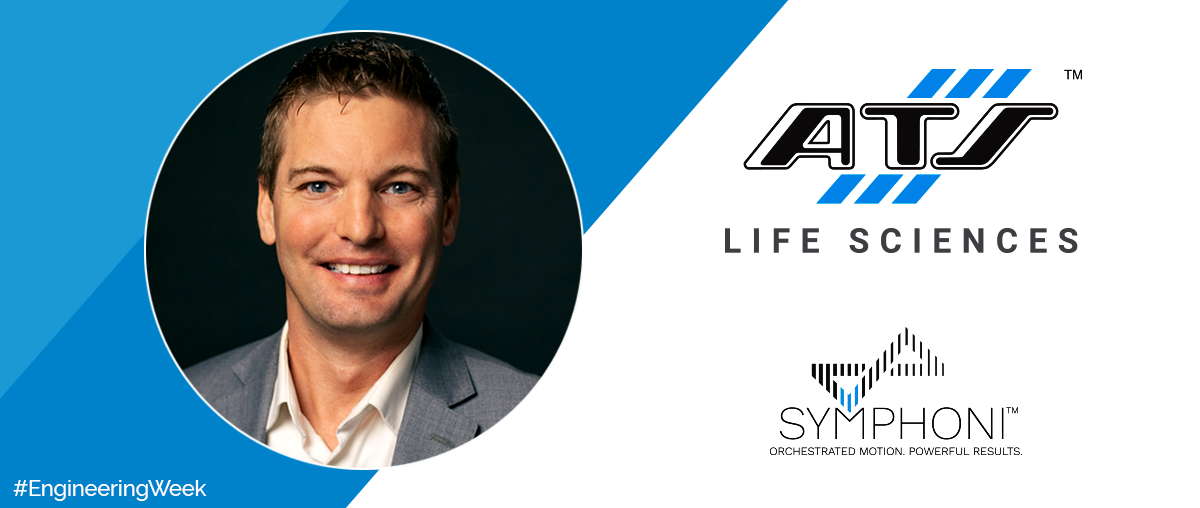 For #EngineeringWeek2022 we sat down with three passionate ATS professionals to gain insight about their careers, their interests, and what makes them tick. Check out our previous post with Hang Tran.
Our second showcase is Blair de Verteuil, President of ATS Life Sciences Systems. Blair shares his family's deep history with engineering, how he found his calling, and what he admires most about Symphoni.
To hear his story, click on the 'play' button.

I DON'T REMEMBER WHEN I DIDN'T WANT TO BE AN ENGINEER.
"I'm Blair de Verteuil. I am the President of ATS Life Sciences Systems. We build the best automation and manufacturing solutions for the world's biggest manufacturers of medical devices, diagnostic equipment, and pharmaceuticals.
When I decided to be an engineer, it was really an inherited trade.
My father was an engineer. My grandfather was an engineer. Both my older brothers were engineers. It wasn't really a matter of whether I was going to be an engineer—it was what discipline, and mechanical engineering appealed to me.
I like building things, and I like building things that make a sound when you drop them. So, mechanical felt right. I don't remember when I didn't want to be an engineer.
When ATS acquired Symphoni, I met Ken Nicholson, the inventor of the technology. What impressed me was not only the scalability and flexibility of the technology that's been long talked about in the industry.
WHAT WAS TRULY UNIQUE WAS KEN'S ABILITY TO APPLY LEAN MANUFACTURING PRINCIPLES TO AUTOMATION.
He identified like no one else where there was waste in movement, removed it, or sped it up to the point where we could maximize the cycle time on the truly important processes or interaction with customer parts.
Nobody is doing that like Ken has with Symphoni."
________________________________________
BIO
Blair is a Professional Engineer and graduate of the Bachelor of Science, Mechanical Engineering program from Queen's University. He began his career with ATS in 2001 as an Automation Engineer and has held progressive roles since then as an Applications Engineer, Project Manager, Director of Program Management, General Manager, VP of North America Operations and currently as President of ATS Life Sciences System Segment.
Blair is a dynamic and passionate leader who believes in empowering people to create an engaged team culture. He is a strong advocate of leveraging innovative ideas and technologies to advance ATS' product and service offerings.
---
Want to learn more?